Shopping Cart
Your Cart is Empty
There was an error with PayPal
Click here to try again
Thank you for your business!
You should be receiving an order confirmation from Paypal shortly.
Exit Shopping Cart
WillowBlue it's Australian for English Willow
| | |
| --- | --- |
| Posted on June 15, 2020 at 7:20 PM | |
"Reminiscing", by Little River Band was from their "Sleeper Catcher" Album. It was written by the band's guitarist Graeham Goble and sung by Glenn Shorrock, rising to No 3 on the US charts in 1978.
I don't know why it is, but I often find myself doing the same these days. Perhaps because I'm a romantic at heart or this is what you do... in twilight years?
In my case, I seem to reminisce all things cricket, reminding myself of cricketing friendships or the places the game has taken me. This is of course a natural occurrence, a faculty by which the mind stores and remembers the information it receives.
It is ever so important these days, don't you think? Especially when we're being told the past is to be forgotten.
But this is exactly what has been happening to country cricket all over regional Australia.
And it is the fault of the game for if cricket clubs cannot spend the time to honour the endeavours of those who contribute to its history (on and off the field), how can we expect to encourage others to pursue the same? For decades now rural cricket competitions have been lost, along with statistics, historic photos, memories, the names of champion regional players, characters of the game and much worse... the stories or yarns once told over a few cold beers.
This really hit home to me last week whilst visiting a friend who'd moved to the picturesque township of Yea situated north of Melbourne between the Great Divide and the Strathbogie Ranges. I had spent time in Yea when Dad had worked in the town. They once had a very strong cricket competition known as the Yea and District Cricket Association (YDCA), so before I left the area I decided to take a walk around the cricket ground. I passed an abandoned roller that I remembered; a huge iron contraption of a thing, very similar to the "Bossers Pet" once used to flatten the deck at Lords.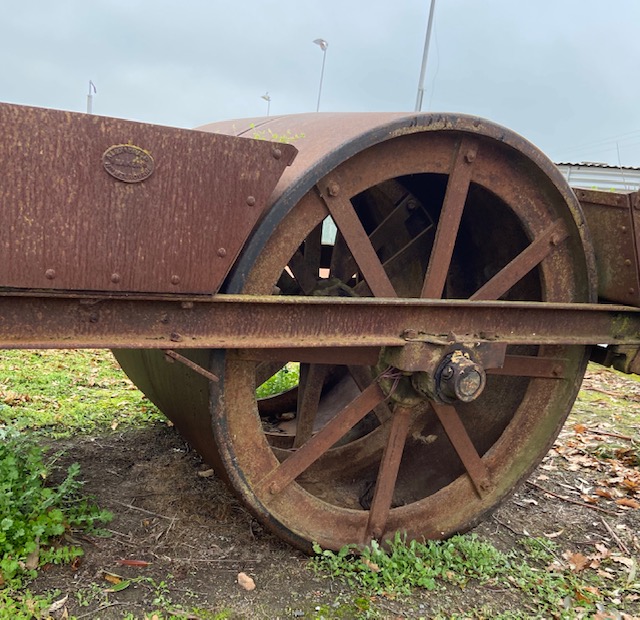 I couldn't believe it was still there and it was in reasonable condition given the last time I laid eyes on it was 60 years ago.
A time when I could be found dragging my father's cricket bat around the grounds he played. It was something I did when I didn't want Dad to get out or in hope that he might take another wicket. He was a handy bat and a bloody good leggie.
He'd reached a pretty good standard in his day too, playing second XI at Carlton under well known "Carltonian" Leo Finch in the 50's, before moving to his father's farm at Gobur. Turn left at the Yarck Pub and keep driving; you'll find the place up the every end of Frees Lane.
The closest cricket team was Yarck and so that's where he played. It was also a time when it was considered an honour to be selected to represent your local community club and its association at Melbourne Country Week. Dad did this taking 39 wickets in a single country week of cricket for the Alexandra and District Cricket Association (ADCA); which I'm told is a competition record.
Anyway, this big piece of iron was pulled up and down the wicket by a team of horses in its day, rolling the Yea cricket wicket unfriendly to all opposition attacks.
Further on and positioned behind the wicket area is the old Grandstand.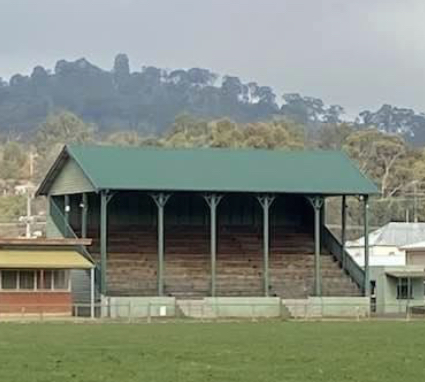 I remembered sitting in the stand with Mum while she scored so I climbed the stairs to look over the ground. Immediately I had images of my father with his rhythmic flowing action and follow through. He had the ability to draw the batsman towards him in the false hope of lifting him high over long on; only to find the ball fizzing past the bat having dropped unerringly; leaving them stranded and well out of their crease.

 

That is, all but one person; Harry Docking (HD) from the Yea Cricket Club.

 

His team made up the YDCA along with Molesworth, Homewood, Boundary Creek, Glenburn, Flowerdale and for one year, Yarck who mostly played in the ADCA except for one year when it's best player was working in Yea.

 

So I began to wonder about Harry; was he still alive I thought? Perhaps I could have a chat with him, get his views on cricket today. It would be a good "Sportshounds" piece?

 

I know, I'll try the "Yea Chronicle" it might be the best place to start; it's been serving the community as long as? Umm! Well, for as long as I can remember and they might have archives.

 

Unfortunately not!

 

So I tried the library where I learned Harry had passed on some years back but, was given the phone number of Gary Pollard who might have known HD. I phoned him and left a message. I then found Yea C.C. listed on "my cricket" I called the contact number listed and was told HD played for Boundary Creek".

 

No, he  played for Yea mate!

 

It didn't take long for Gary to return my call and I learned that he had actually played against my father and opened the batting with Harry. He told me Harry was also a handy opening bowler who could move the ball both ways. He said HD was a real chain smoker you know; after he'd taken a wicket... he lit up, stomping it, turned to bowl to the new batsmen and exhale. He looked like the old "goods train" that puffed along the Seymour to Mansfield line in those days. One season having played every game up until the Christmas break only, 3 members of Yea team had batted and Harry hadn't been dismissed.

 

I learned that HD had played until he was 60. Gary couldn't tell me where the club records were but there had been a book written about the YDCA history and that he might have it someplace... he'd look.

 

As of today it still hasn't been found and that's not to say it won't be; things move slowly up the country you know, so let's assume HD began his cricket at 18. We'll give him a few years to find his feet in the game and by my reckoning he made 7 centuries a season at a minimum, from the age of 28 to 45 (17 year period). I know this because the Yea Chronicle arrived in the post at our house every week all through my primary and secondary years.

 

Our family moved to Croydon in 1963 where I'd religiously turn to the sports section to find a another "Ton" had been scored.

 

Harry Docking, would surely have amassed a 100 hundreds and must have been pushing for the title of "Bradman of the Bush".

 

If we could only find the records.

 

Categories: None

0

/